Kizzy Consulting Attains Salesforce Ridge Partnership Status [2023]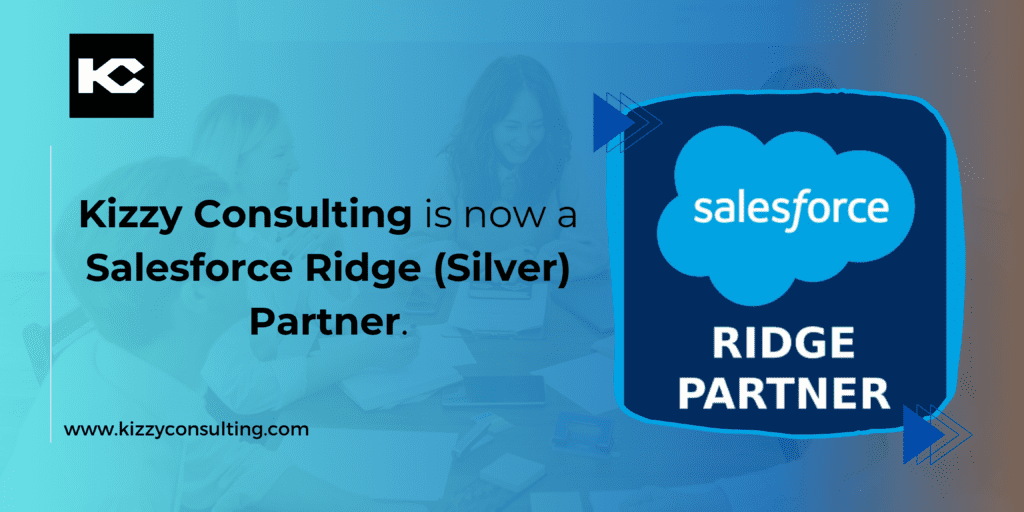 [USA, 29th Aug 2023] – Kizzy Consulting, a leading Salesforce service provider in the USA, Europe, and Australia, is thrilled to announce its recent achievement of becoming a Salesforce Ridge Partner. This significant milestone underscores the company's dedication to excellence, innovation, and delivering exceptional value to clients within the Salesforce ecosystem.
The attainment of the Salesforce Ridge Partnership reflects Kizzy Consulting's commitment to providing cutting-edge solutions that empower businesses to harness the full potential of Salesforce. The Ridge Partner designation is a testament to the company's expertise, customer-centric approach, and continuous pursuit of excellence in the realm of Salesforce services.
As a Ridge Partner, Kizzy Consulting gains access to enhanced resources, training, and support from Salesforce. This partnership will further equip the company's team with the knowledge and tools necessary to deliver even more innovative solutions that drive client success.
"Being recognized as a Salesforce Ridge Partner is a moment of pride and achievement for our entire team," said Sanjeet Mahajan, CEO at Kizzy Consulting. "This partnership is a testament to the hard work, dedication, and passion we pour into every client engagement. We are excited to leverage this partnership to further elevate our service offerings and provide our clients with unparalleled Salesforce solutions."
Kizzy Consulting's journey to becoming a Salesforce Ridge Partner is a testament to its commitment to staying at the forefront of industry trends and evolving client needs. The partnership solidifies the company's position as a trusted advisor and underscores its ability to deliver transformative results in the realm of CRM and business process optimization.
For more information about Kizzy Consulting and its Salesforce services, please visit Kizzy Consulting.
Kizzy Consulting:
Kizzy Consulting is a Salesforce Consulting Partner and has successfully implemented 100+ Salesforce projects for 100+ clients across sectors like Financial Services, Insurance, Retail, Sales, Manufacturing, Real estate, Logistics, and Healthcare in countries like the US, Europe, and Australia.
For more information, please contact us.