Updates to be expected in the Summer'23 Release [2023]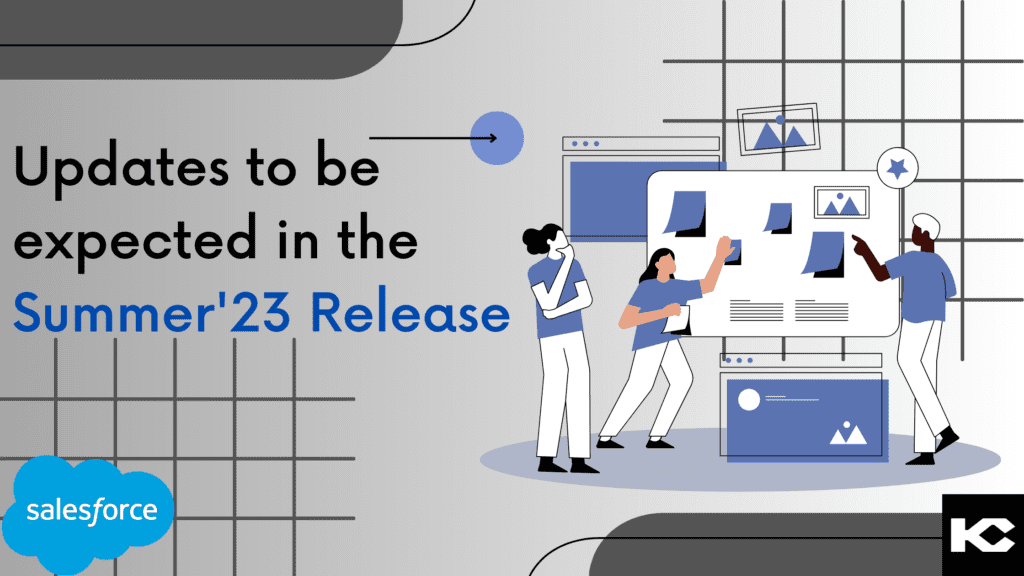 Salesforce releases updates every 4 months to provide its users with new features, enhancements, and bug fixes. This regular release schedule ensures that Salesforce remains a cutting-edge platform and that its users have access to the latest technology and capabilities.
The 4-month release cycle is also designed to provide a balance between innovation and stability. By releasing updates on a regular schedule, Salesforce can focus on delivering new features and improvements while also ensuring that the platform remains reliable and secure.
Additionally, the 4-month release cycle allows Salesforce to gather feedback from users on the new features and functionality. This feedback helps Salesforce to refine its offerings and make improvements based on user needs and preferences. By listening to its users and incorporating their feedback into its product development process, Salesforce can continue to improve its platform and maintain its position as a leader in the CRM space.
Key dates for Summer'23
April 26: Preview notes will be available
May 4 &5: Sandbox cutoff date and Sandboxes will be upgraded
May 15th: Preview instances will be upgraded to Summer '23.
June 3rd-4th: Salesforce will perform a final readiness check.
June 10th: Summer 23 Release will be available in production.
Expected Updates in Summer '23
These updates are scheduled to be enforced in Summer '23. The list can include new, previously announced, and previously postponed release updates.
Disable Rules for Enforcing Explicit Access to Apex Classes
This update disables the requirement for a user running a flow to have explicit access to Apex classes invoked by that flow.
Enable Sharing for Flow Orchestration Objects 
After Enable Sharing for Flow Orchestration Objects is selected, the Manage Flow user permission no longer grants users access to Flow Orchestration objects. The Manage Orchestration Runs and Work Items user permission, along with sharing rules and role hierarchies, control user access to Flow Orchestration objects. Users who run orchestrations and execute work items must still have the Run Flows user permission.
Opt-in for Event Log File Generation 
You can now opt in or out of generating and delivering event log files. Previously, all instances received event log files automatically. With this update, event log files are only generated and delivered to instances that opt-in to receive event log files.
This update automatically disables event log file generation for Developer and Trial editions, and for instances that don't have the Event Monitoring add-on subscription by default. If you have Salesforce Shield or Salesforce Event Monitoring add-on subscriptions, you're opted into receiving event log files by default.
Enable Content Sniffing Protection 
Help shield your org and network from malicious attacks with content sniffing protection. This change helps prevent the browser from loading scripts disguised as other file types when your users access external content and websites from Salesforce.
Prevent Guest User from Editing or Deleting Approval Requests 
After Prevent Guest User from Editing or Deleting Approval Requests is enabled, guest users can approve or reject an approval request. Guest users are no longer able to edit, reassign, or delete approval requests.
Salesforce Platform API Versions 21.0 through 30.0 Retirement 
Versions 21.0 through 30.0 of the Salesforce Platform API are being retired in Summer '23. They are now deprecated and are no longer supported by Salesforce.
Security Enhancements for CSRF Tokens for Lightning Apps 
This update enforces the generation of a different cross-site request forgery (CSRF) token for each Lightning app, which ensures that a token is used only in its intended context.
Use a Default No-Reply Address as System Address for Case Email Notifications
Configure a default No-Reply address from the Organization-Wide Addresses page in Setup. Add an email address in Special Purpose Organization-Wide Email Addresses, then follow the steps outlined in the verification email sent to the new default No-Reply address. After you verify your default No-Reply address, set up and start the Test Run in the Release Update.
Restrict Emails Sent from the Guest User 
This update restricts organizations from sending emails from an unverified email address in the guest user record. Orgs with a verified organization-wide email address aren't affected by this release update, since the "sent from" email address defaults to the org's verified email address.
Check out the Summer'23 release notes: https://kizzyconsulting.com/salesforce-summer23-release-notes/
Kizzy Consulting
Kizzy Consulting is a Salesforce Consulting Partner based in Panchkula, India. Kizzy has successfully implemented 100+ Salesforce projects for 100+ clients across sectors like Financial Services, Insurance, Retail, Sales, Manufacturing, Real estate, Logistics, and Healthcare in countries like the US, Europe, Germany, and Australia. Get a free consultation now by emailing us at [email protected] or Contact us.