Salesforce Service Cloud Features [2023]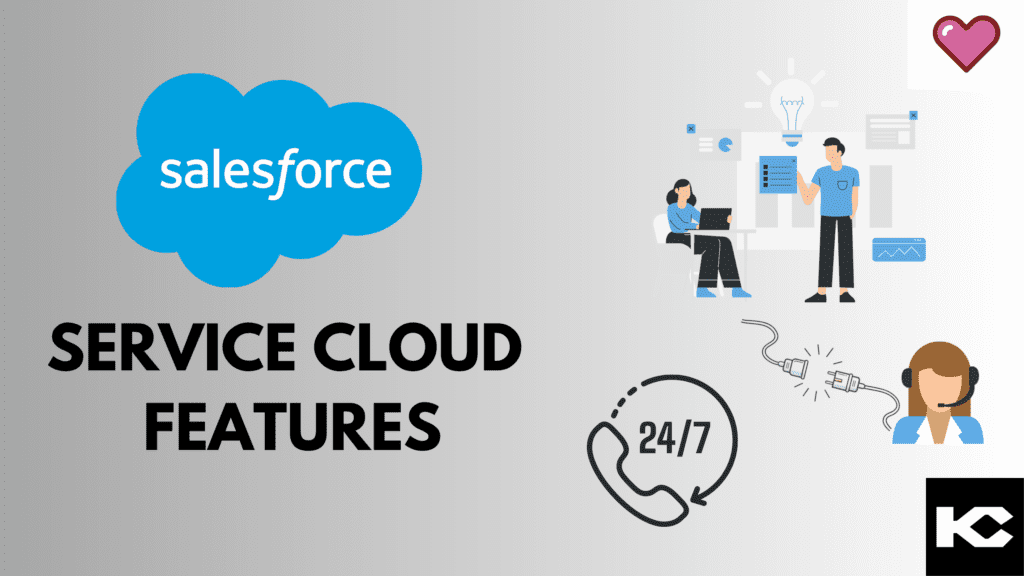 Hello there, reader! Today, we're going through the main features of Salesforce Service Cloud. Salesforce Service Cloud is a Servicing platform utilized by over 11K customers worldwide. Service Cloud improves its customer service and organizes Service Cases.
The SF Service Cloud console provides a more comprehensive view of the Service Cloud's connected Accounts, Contacts, Cases, and other stakeholder components. This makes it easier for our Customer Service Representative (CSR) to maintain track of the entire Client Story.
Features of Salesforce Service Cloud:
Knowledge Management
When an end-user phones a customer service representative, the issue they want to discuss could be anything in the product. Knowledge Articles are utilized to help the CSR grasp the challenges and suggest available/possible solutions. 
Knowledge Articles appear on the CSR's console screen and provide additional insight into the difficulties and the solutions. Knowledge Articles are fully configurable and can be produced by Org Users or imported from online resources.
Omni-channel communication: 
Omni-channel is a useful tool for routing incoming cases based on: 
The agents' skill sets.

The agents' availability.
Omni channel Console can be used to manage agent routing and to view details of every Case, its associated agent, and the time remaining/spent on the case.
Service level agreements (SLAs)
An SLA in Service Cloud is an agreement between the service provider and the client regarding the services that the former should supply to the latter. SLAs are linked to Entitlements and Milestones. 
Entitlement

: In Salesforce Service Cloud, entitlements are units of customer support. They are commonly used to represent terms in service contracts.

Milestones:

Milestones: Milestones describe the time it will take for any particular phase in your support process, such as the resolution or engagement time for a Case.
Reporting in Service Cloud
Reporting is an important component that helps in the creation of reports based on the available data in the organization. Reporting and creating a dashboard facilitates the user's understanding of the data. 
Analytics
Service Analytics dashboards compile best-practice key performance indicators (KPIs) for the data in your organization. Service managers get a complete picture of customer service data, including trending and historical standards. Agents may see a glimpse of each case and customer to make quick decisions about potential customer interactions.
CTI Integration
Over the years, Salesforce<–>CTI Integration has proven to be a powerful technology that has transformed the way Service Cloud is used. This connection allows the end-user to call the Customer Service Representative (CSR) and file a case or discuss a problem. Integration of telephony systems with Salesforce gives phone control capabilities to display calling data on the screen of the CSR.
Communities
A community is a place where any org user may search for a problem they are facing or submit the solution to an issue to help others in the organization.
These features make Salesforce Service Cloud stand out from the crowd and a must-have for your organization. However, if not installed correctly, setting up Salesforce Service Cloud can be a time-consuming process and could result in long, sleepless nights of development for you and your team. 
This is why you should either hire an industry-leading consultancy team or take the following steps: 
Understand the needs and develop the procedure accordingly. Never overthink your process. The method and functionality should be adaptable to any future adjustments.

Understand and apply the promising characteristics of Service Cloud.

Make sure everyone on your team understands the Service Console. A fantastic tool will be useless to a capable team if the system is not understood properly.
It allows businesses to monitor and handle customer complaints quickly and efficiently, providing customers with a unified experience that encourages loyalty and confidence. Whether you are a little business or a large corporation, Salesforce Service Cloud can help you provide world-class customer service that sets you apart from the competition. If you want to improve customer service and drive business growth, consider installing Salesforce Service Cloud.
Contact us for Consultation Services or for demonstrations of all types of Salesforce Clouds, Tools, and Platforms.
Kizzy Consulting
Kizzy Consulting is a Salesforce Consulting Partner based in Panchkula, India. Kizzy has successfully implemented 100+ Salesforce projects for 100+ clients across sectors like Financial Services, Insurance, Retail, Sales, Manufacturing, Real estate, Logistics, and Healthcare in countries like the US, Europe, Germany, and Australia. Get a free consultation now by emailing us at [email protected] or Contact us.