How to select the right Salesforce Edition for your Business? [2023]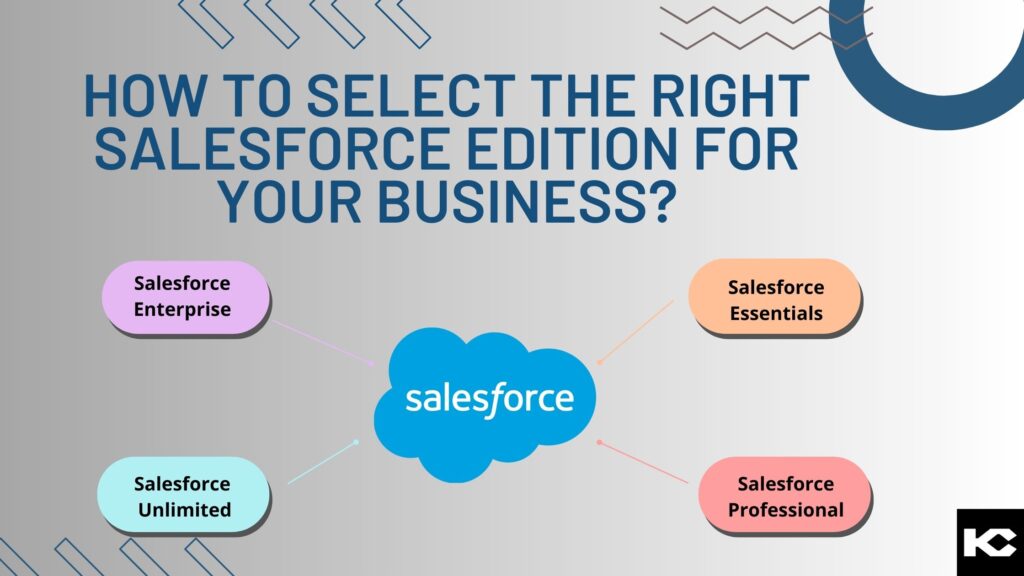 Introduction:
With extensive experience in Salesforce implementation, we have gained valuable insights into the various Salesforce Editions and their impact on businesses. Each edition offers unique features and functionalities that cater to diverse organizational needs. In this blog, we will provide an in-depth comparison of Salesforce Editions based on our hands-on experience, helping you make an informed decision when selecting the right edition for your business.
Salesforce Edition Comparison:
Salesforce Essentials:

Ideal for: Small businesses and startups
Key Features: Basic CRM functionalities, customizable reports, and dashboards
Our Experience: Salesforce Essentials offers a cost-effective entry point for businesses looking to establish a foundation for their CRM needs. While it lacks advanced features, it provides a user-friendly interface and excellent scalability potential.

Salesforce Professional:

Ideal for: Growing businesses with moderate CRM requirements
Key Features: Comprehensive CRM capabilities, automation, and integrations with third-party apps
Our Experience: Salesforce Professional strikes a balance between affordability and functionality. It empowers sales teams with powerful tools for lead management and sales forecasting.

Salesforce Enterprise:

Ideal for: Large enterprises with complex CRM needs
Key Features: Advanced customization, workflow automation, and enterprise-level support
Our Experience: For organizations with sophisticated requirements and a large user base, Salesforce Enterprise delivers robust features to streamline business processes and enhance collaboration across departments.

Salesforce Unlimited:

Ideal for: Large enterprises with extensive customization needs
Key Features: Unlimited access to Salesforce's full suite of features, advanced support, and unlimited data storage
Our Experience: Salesforce Unlimited is a comprehensive solution for organizations seeking limitless customization options and extensive data storage capacity. It empowers businesses to scale without constraints.
To know more about Salesforce Editions: https://help.salesforce.com/s/articleView?id=sf.overview_edition.htm&type=5
To know about Salesforce Licenses Types: https://kizzyconsulting.com/salesforce-licenses-types/
Conclusion:
Having implemented Salesforce across diverse businesses, we recognize that selecting the right Salesforce Edition is crucial for achieving CRM success. Each edition brings a unique set of advantages that align with specific business needs and budgets. From small startups to large enterprises, Salesforce offers a range of editions to suit organizations of all sizes.
Our experience has shown that carefully evaluating your business requirements, growth plans, and budget constraints is key to making an informed decision. Whether you opt for Salesforce Essentials, Professional, Enterprise, or Unlimited, our team is here to support you throughout the implementation journey.
When in doubt, consulting with Salesforce experts and experienced consultants can provide valuable insights and ensure that your Salesforce implementation is tailored to drive success and growth for your organization. Remember, your choice of Salesforce Edition lays the foundation for your CRM journey, and with the right strategy, you can unlock the full potential of Salesforce for your business.
Kizzy Consulting
Kizzy Consulting is a Salesforce Consulting Partner and has successfully implemented 100+ Salesforce projects for 100+ clients across sectors like Financial Services, Insurance, Retail, Sales, Manufacturing, Real estate, Logistics, and Healthcare in countries like the US, Europe, and Australia. Get a free consultation now by emailing us at [email protected] or Contact us.