Why do SMBs need Salesforce? [2023]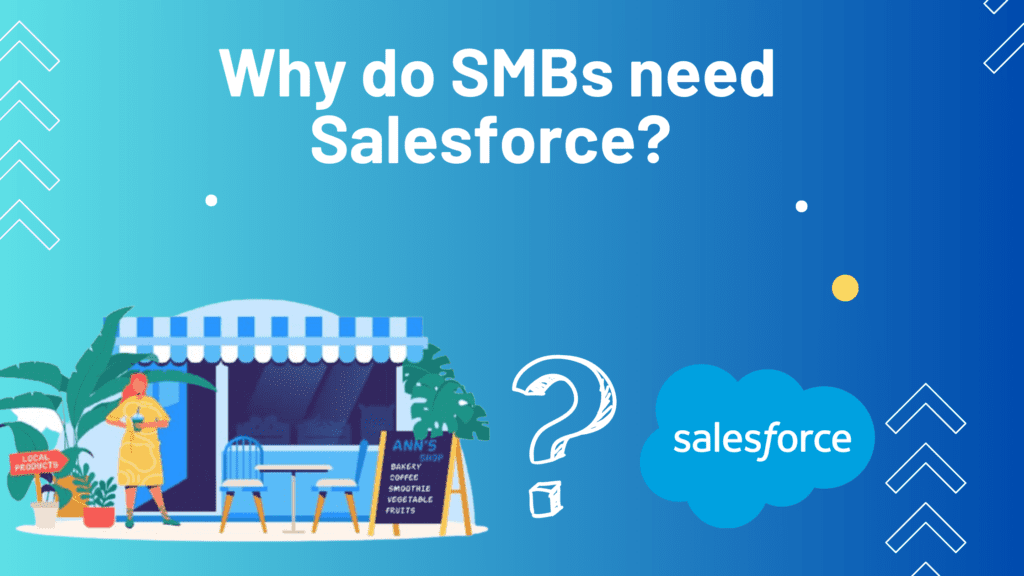 Why do SMBs need Salesforce? 
In this blog, we will go through why small and medium businesses need Salesforce. But before we go through it, let's understand Salesforce in more detail.
Cloud-based software company Salesforce makes software that helps companies seal more deals, discover more possibilities, and astound customers. Companies can grow relationships with customers and employees with Customer 360, Salesforce's complete suite of products that unites sales, service, marketing, commerce, and IT units.
We're about to dive into this comprehensive guide, which will explain why Salesforce is important for SMBs
Easy to use: 
In addition to being extremely easy to use, Salesforce Essentials offers a great deal of functionality. Having Salesforce provides improved insight into accounts, opportunities, contacts, and tasks within one location and frees up your marketing, customer support, and sales teams from having to manage multiple tools.
Cost-effective:
Cloud-based solutions aren't dependent on expensive server architecture, so companies can use them without having to own their own servers.

Unique features:
By coding and programming unique features into the company's Salesforce CRM Platform, salesforce customization can enhance your CRM platform's capabilities. Apex classes, Apex triggers, various third-party connectors, visual force emails, changing page layouts with CSS, and constructing visual force pages are all part of this customization.
A licensing system based on need:
With Salesforce's powerful and flexible permissions management, Salesforce offers a wide range of licenses based on company size and goals. There are a number of essentials that small businesses should consider based on their cost-benefit value. 
Educating & Connecting
As an easy and quick way to learn the platform features, Salesforce has developed a free gamified learning platform. By joining the professional community, companies can hear from Salesforce employees, partners, and customers about the newest ideas and solutions.
Integrations tailored to the company's needs
The importance of responding quickly to client needs is well understood by SMB owners. With numerous apps available on AppExchange and integrations into existing ecosystems such as MailChimp, Dropbox, and Gmail. Using Salesforce, customers can interact smoothly. Small businesses can still use AppExchange as a platform to show and sell their apps to customers with salesforce models, despite some integrations being available only with professional licenses.
Real-time data
Salesforce is available with all licenses. Additionally, it can be used while working remotely with real-time data from a smartphone, laptop, or tablet.
Data analytics & statistics
Data is the key to scalable growth. Based on personalized reports, the CRM allows companies to prioritize leads, find new opportunities and foretell outcomes based on analytics about their customers.
Salesforce offers unlimited configuration options that help companies scale their business to the next level. Small and Medium-scale businesses can also save money by keeping all the data in one system so that future data migrations are not expensive.
In conclusion, smaller alternative business systems can be used to automate typical business processes more affordably. However, even if your business is small, it is wise to consider the long-term benefits. When configured correctly, Salesforce cannot be compared to any other solution in this regard.
Kizzy Consulting
Kizzy Consulting is a Salesforce Consulting Partner based in Panchkula, India. Kizzy has successfully implemented 100+ Salesforce projects for 100+ clients across sectors like Financial Services, Insurance, Retail, Sales, Manufacturing, Real estate, Logistics, and Healthcare in countries like the US, Europe, Germany, and Australia. Get a free consultation now by emailing us at [email protected] or Contact us.