WHAT IS SALESFORCE VOICE?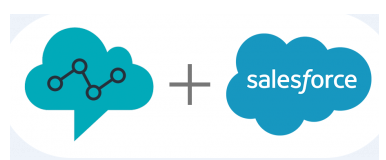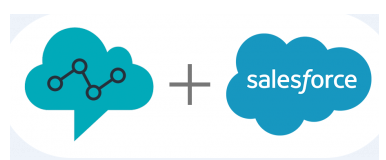 SALESFORCE SERVICE CLOUD VOICE
Service cloud voice is a telephony system integrated within the Salesforce service cloud, which allows routing of phone calls on a single platform.
It is a CTI solution integrated inside a service cloud that offers streamlined customer service, boundless visibility for managers and AI driven intuitiveness leading to a better service experience for customers.
WHY SALESFORCE VOICE?
 Direct integration into omni channel console
Omni channel routing is a method of intelligently directing customer queries across a diverse range of service channels. Salesforce has now directly integrated telephony into the omni-channel console that agents use to handle customer issues. Now agents doesn't have to toggle between screens or tools.
Increased Productivity
Since it provides a holistic view of the customer to the agent it leads to a more fulfilling experience for the customer and helps close the calls faster. Einstein Intelligence and single integrated platform impart relevant information to the agents quickly saving time and enhancing interactive experience.
Easy Integration of calls
Since Amazon connect is integrated with service cloud , all the advantages of Amazon connect are available in this option also service cloud  leads customers to the agents best suited for their needs at that point of time saving time and money .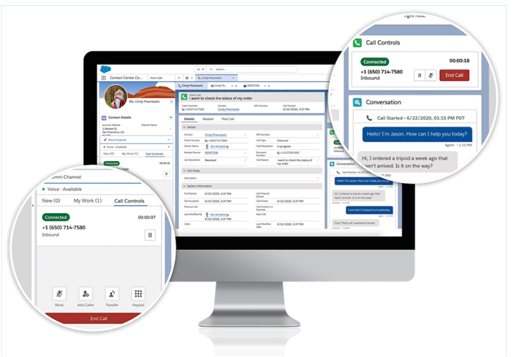 AII assisted phone answering
Voice transcripts from Amazon Connect and Einstein based recommendations provide a seamless experience. As customer data is available in real time agents can navigate custom queries faster and more relevantly.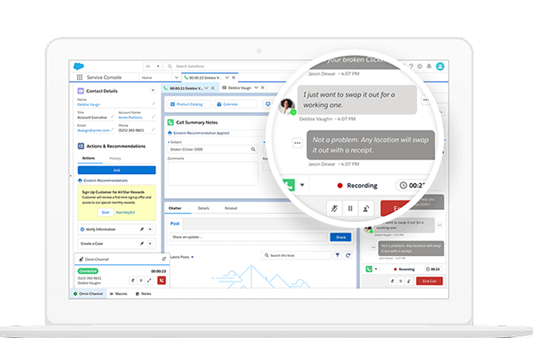 Personal Touch
Since all customer chats and data are available on screen customer experience is enhanced and lesser details have to be sought from the customer as also from other departments.
Optimization of training
Since it provided supervisors real time glimpse of customer interaction, better and more effective training can be imparted to the agents and also on boarding of new recruits can be fast tracked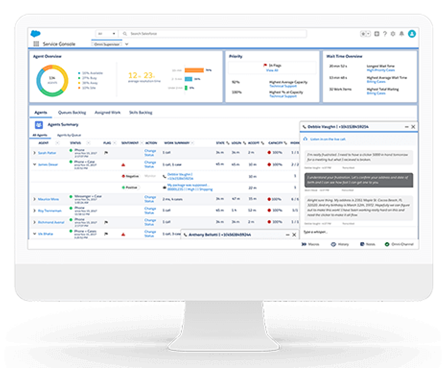 LIMITATIONS:
Voice is available only in Lightning Experience, not in Classic.
Voice isn't supported on Salesforce Mobile.
Kizzy Consulting
Kizzy Consulting is a Salesforce Ridge Consulting Partner in the USA and has successfully implemented 100+ Salesforce projects for 100+ clients across sectors like Financial Services, Insurance, Retail, Sales, Manufacturing, Real estate, Logistics, and Healthcare in countries like the US, Europe, and Australia. Get a free consultation now by emailing us at [email protected] or Contact us.