Salesforce vs ServiceNow: Finding the Perfect Fit [2023]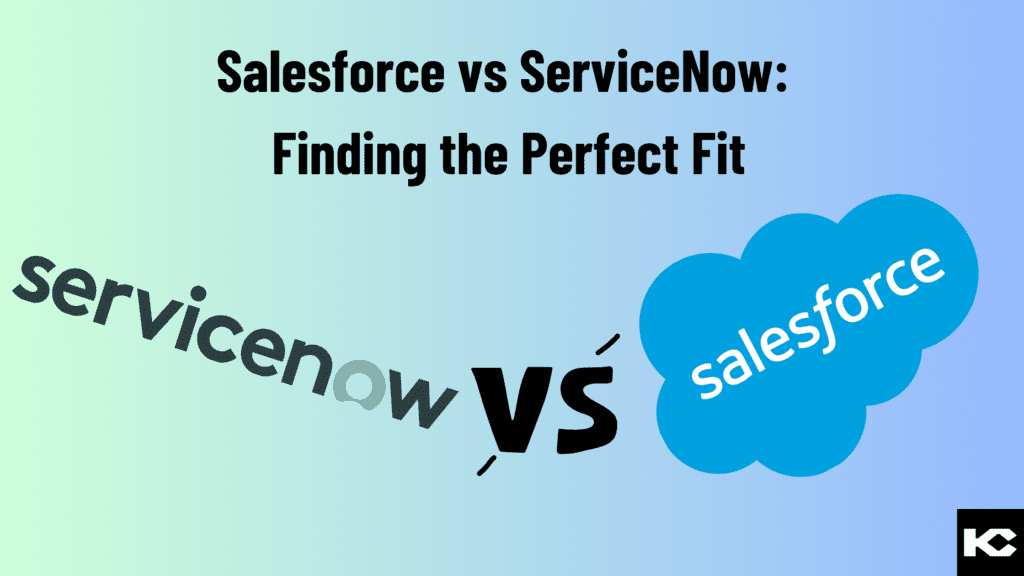 In today's fast-paced business environment, choosing the right software solution for your organization's needs is critical. Two of the leaders in streamlining workflows and improving the customer experience are Salesforce and ServiceNow. Both platforms offer a wide range of features and capabilities, making it difficult to find the best fit for your business. Whether you're a small startup or a multinational, this decision can have a significant impact on your operations and bottom line. In this article, we'll look at Salesforce vs ServiceNow and explore their strengths, weaknesses, and unique selling points. By the end, you'll have a better understanding of which platform meets your business goals and can help your company reach new heights. So let's dive in and find the perfect solution for your business - Salesforce or ServiceNow.
Understanding business needs
Before comparing Salesforce and ServiceNow, it's important to understand the unique needs of your business. Different businesses have different priorities and goals, and identifying these will help you make an informed decision. Take the time to evaluate your current workflows, problems, and areas for improvement. Do you focus primarily on sales and marketing? Do you need robust customer relationship management (CRM) capabilities? Or are you more concerned with IT service management (ITSM) and streamlining internal processes? Understanding your business needs will serve as the foundation for an effective Salesforce and ServiceNow evaluation.
Salesforce key features and functions
Salesforce has established itself as the market leader for CRM solutions. The cloud-based platform offers a comprehensive set of features designed to help businesses increase revenue, improve customer service, and automate processes. Salesforce's key features include:
Sales Cloud: Salesforce's CRM flagship, Sales Cloud, supports sales teams with lead management, opportunity tracking, and forecasting tools. It provides a central hub for managing customer interactions, enabling sales reps to close deals more efficiently.
Service Cloud: Service Cloud focuses on customer support and service management. With features such as case management, knowledge base, and omnichannel support, companies can deliver exceptional customer experiences and resolve issues promptly.
Marketing Cloud: Marketing Cloud enables companies to create personalized, targeted marketing campaigns across multiple channels. With tools for email marketing, social media management, and customer journey mapping, organizations can connect with their audiences in a more meaningful way.
Commerce Cloud: If you operate an e-commerce business, Commerce Cloud offers a robust platform for managing online storefronts, order fulfillment, and customer engagement. It integrates seamlessly with other Salesforce products, allowing for a unified customer experience.
Key features and functions of ServiceNow
While Salesforce focuses primarily on CRM, ServiceNow takes a broader approach by offering ITSM solutions and workflow automation. ServiceNow's key features include:
IT Service Management: ServiceNow's ITSM capabilities help organizations streamline their IT operations, improve service delivery and increase end-user satisfaction. It offers features such as incident management, problem management, and change management and ensures smooth IT processes.
IT Operations Management: This feature enables organizations to effectively monitor and manage their IT infrastructure. It includes modules such as Event Management, Performance Analytics, and Cloud Management that provide visibility and control over critical IT resources.
HR Service Delivery: ServiceNow's HR Service Delivery module streamlines HR processes such as employee onboarding, benefits administration, and case management. By automating routine tasks, companies can free up HR teams to focus on strategic initiatives.
Customer Service Management: Similar to Salesforce's Service Cloud, ServiceNow's Customer Service Management module empowers businesses to deliver exceptional customer experiences. It provides self-service portals, knowledge bases, and case management tools, ensuring efficient resolution of customer queries.
Comparing Salesforce vs ServiceNow Based on Business Needs
Now that we've explored the key features and capabilities of Salesforce and ServiceNow, let's compare them based on common business needs:
CRM Functionality: If your organization's primary focus is sales and marketing, Salesforce's Sales Cloud and Marketing Cloud provide comprehensive CRM capabilities. However, ServiceNow offers limited CRM functionality, primarily geared toward customer service management.
IT Service Management: ServiceNow excels in this area, offering a robust suite of ITSM tools. If your organization heavily relies on IT operations and requires features like incident management and change management, ServiceNow might be the better choice.
Integration with Other Systems: Both Salesforce and ServiceNow offers integration capabilities with third-party systems. However, Salesforce's AppExchange marketplace provides a vast ecosystem of pre-built integrations, making it easier to connect with popular applications.
Customization and Scalability: Salesforce is known for its flexibility and scalability. Its platform allows businesses to customize workflows, create custom objects, and build tailored applications. ServiceNow, while customizable, may have limitations when it comes to certain complex workflows.
Pricing and Licensing: Salesforce's pricing structure varies depending on the products and features you require. It offers different editions, catering to businesses of all sizes. ServiceNow's pricing is often based on the number of users or service modules required, making it important to carefully evaluate your needs and budget.
Concerns for Scalability and Customization
Scalability and customization are essential factors to add-remember when choosing between Salesforce and ServiceNow. Salesforce's cloud-primarily based platform is renowned for its potential to scale with the growing needs of agencies. It provides a sturdy set of tools for personalization, permitting add-on agencies to tailor the platform to their particular requirements. however, at the same time as ServiceNow is likewise scalable, it could have obstacles in relation to complicated workflows and great customization. carefully examine your company's destiny increase plans and customization desires to determine which platform is better desirable for your lengthy-term goals.
Integration add-ons with different structures
Integration competencies are critical for ensuring seamless statistics glide and connectivity between distinctive systems. both Salesforce and ServiceNow offer integration add-on alternatives, but Salesforce's AppExchange marketplace offers an extensive array of pre-constructed integrated-ons. These surroundings include famous applications which include Microsoft Outlook, Gmail, and diverse advertising automation tools. ServiceNow, then again, may additionally require greater custom improvement for precise integrate accessories. add-consider the systems you presently use, as well as the ability future integrated-ons, while comparing the combined skills of Salesforce and ServiceNow.
Pricing and Licensing: Salesforce vs ServiceNow
Pricing and licensing systems can appreciably impact your decision-making method. Salesforce gives various variants and pricing plans to cater to add-ons of all sizes. The price is normally based on the goods and capabilities accessories you require, with extra available for extra superior functionality. ServiceNow's pricing, then again, is regularly based on the range of customers or carrier modules required. it is essential to carefully compare your needs, price range, and lengthy-term growth plans to apprehend the whole fee of ownership for each platform.
Making the Final Decision: Salesforce vs ServiceNow
Choosing between Salesforce and ServiceNow is a significant decision that requires careful consideration. Start by assessing your organization's specific needs, evaluating the key features and capabilities of each platform, and considering factors like scalability, customization, integration options, pricing, and customer satisfaction. Additionally, involve key stakeholders and department heads in the decision-making process to gather diverse perspectives. Ultimately, the right choice will depend on your unique business requirements and long-term goals.
Conclusion
In conclusion, both Salesforce and ServiceNow are powerful software solutions that can greatly benefit businesses of all sizes. Salesforce excels in CRM functionality and is highly customizable and scalable. On the other hand, ServiceNow shines in IT service management and workflow automation. When making the decision between Salesforce and ServiceNow, it's crucial to understand your organization's specific needs, evaluate the key features and capabilities of each platform, and consider factors like scalability, customization, integration options, pricing, and customer satisfaction. By taking a holistic approach and involving key stakeholders, you can make an informed decision that aligns with your business objectives and sets your organization up for success.
Kizzy Consulting
Kizzy Consulting is a Salesforce Consulting Partner and has successfully implemented 100+ Salesforce projects for 100+ clients across sectors like Financial Services, Insurance, Retail, Sales, Manufacturing, Real estate, Logistics, and Healthcare in countries like the US, Europe, and Australia. Get a free consultation now by emailing us at [email protected] or Contact us.