Salesforce sales cloud implementation checklist [2023]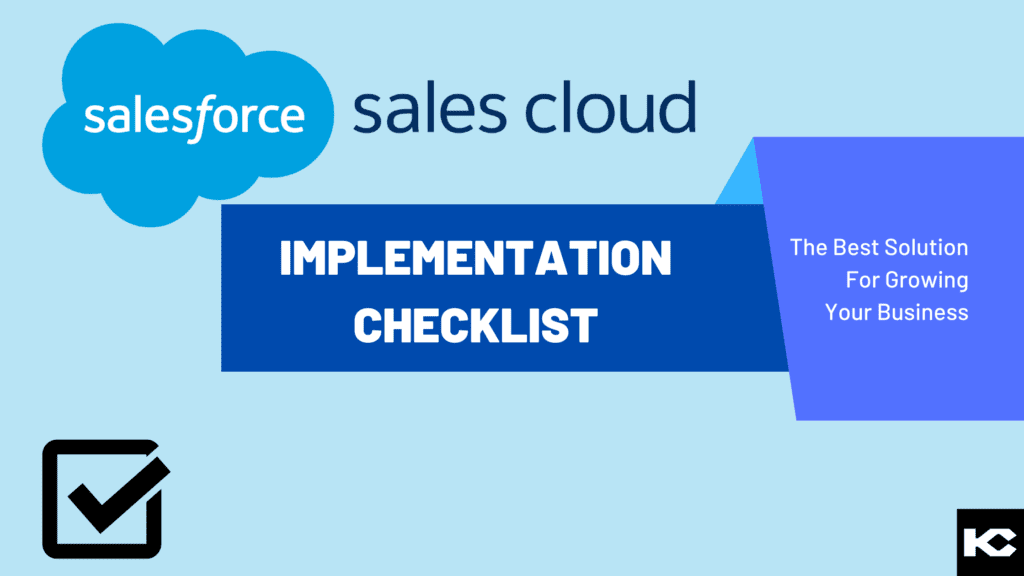 The purpose of this guide is to teach you how to make Salesforce sales cloud implementation using the latest best practices. There are several steps in the Guide that will guide you through the entire process and provide all the information you need.
Set Clear Goals: You should define your company's goals before using the Sales Cloud. As a first step, you should review your existing systems, such as CRMs and e-commerce platforms, to determine how to improve customer retention and the second step is to identify potential customers. As a third step, identify all parties who will require access to the data during its lifecycle. The sales department, support staff, and marketing department fall into this category. To determine if this solution will affect other business processes and systems, conduct an impact analysis.
Reach out to salesforce consultants: Additionally, before making any decisions about a potential candidate, you should schedule a meeting with everyone. You should discuss the capabilities of the team members, the training they offer, and why they are the best choice. This is what you should do if you want to make sure your company's goals are met.
Choose the best consultant: If you have a Salesforce Consulting Partner on your side, it will be easier to choose the right one for your organization. It's not just about putting Salesforce into place - you can customize it to suit your needs, keep up with updates, and train your team. The right Salesforce Partners will ensure the success of your Salesforce implementation by handling these tasks.
Plan in advance: It is vital that you begin your search for a Salesforce consultant as early as possible when considering whether or not to hire one. In other words, hire a consultant 2-3 months before your Salesforce Sales Cloud implementation date so the consultant can understand your industry and business goals and assemble a thriving implementation plan for you.
Establish a realistic implementation timeline and a realistic cost: Getting Salesforce up and running should not be rushed. In order to complete the integration process, data migration, team training, and transition, a period of time must be devoted to each of these tasks. In order to establish a realistic schedule, experts must be involved in the budgeting strategy.
Identify weaknesses: An analysis of where problems might be resolved is the first step in the process. Identifying weaknesses is typically done through interviews with both those involved in the sales process and those not involved. It is possible to identify problems with a process by looking at missed objectives or unmet goals.
Implement customization: Salesforce is tailor-made to meet your unique needs - which is why it dominates the cloud industry. CRM's multiple facets like the Community Cloud, which leverages social media for conversion, and Customer 360, which brings together all the customer information on one customer profile, will unlock your marketing potential in a whole new way. In the dearth of guidance and knowledge, many organizations are not able to explore Salesforce further. Communicating your organizational needs and desired outcomes to your Salesforce team will allow them to customize Salesforce accordingly. You will be surprised at what you will discover when you get to know the tool better.
Your team needs to be trained: If you have trained professionals who can help you optimize the use of Salesforce, it can do wonders for your organization's productivity. Establish a training program for all team leaders so they can convey the knowledge to their teams. A trained team will make Salesforce adoption simpler and more successful, even if there are a few bumps initially.
Get help from your Salesforce partner: Keeping your Salesforce tool up to date and maintaining it will be essential. In this regard, it is essential that you choose a Salesforce partner who can support you on a regular basis and help you achieve success.
To conclude, Salesforce Sales Cloud implementation can be the best decision you make for your business – but you will need a roadmap to make it happen. We hope that you are now on the first step of your Salesforce implementation journey and that our checklist has helped you initiate the process.
However, should you find yourself in a dilemma, do drop us a quick message and we will come to your rescue!
Kizzy Consulting
Kizzy Consulting is a Salesforce Consulting Partner based in Panchkula, India. Kizzy has successfully implemented 100+ Salesforce projects for 100+ clients across sectors like Financial Services, Insurance, Retail, Sales, Manufacturing, Real estate, Logistics, and Healthcare in countries like the US, Europe, Germany, and Australia. Get a free consultation now by emailing us at [email protected] or Contact us.