Salesforce Marketing Cloud Implementation Partner in the USA [2023]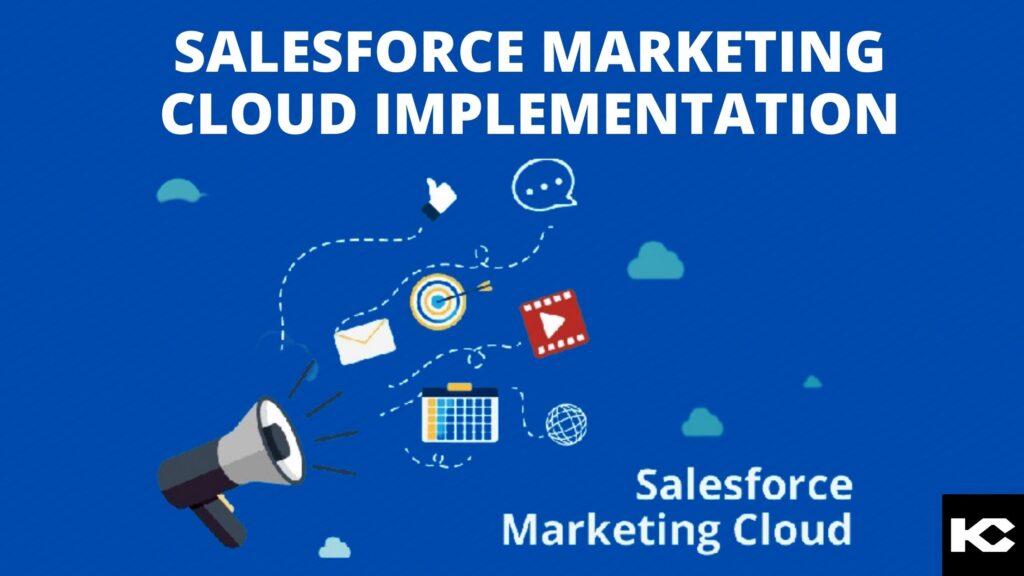 Kizzy Consulting, a trailblazing force in the Salesforce ecosystem, stands out prominently as a Salesforce Marketing Cloud Implementation Partner in the USA. With a proven track record of delivering excellence in CRM solutions, Kizzy Consulting has extended its expertise to transform marketing operations.
As a Salesforce Marketing Cloud Implementation Partner, Kizzy Consulting brings a wealth of experience and innovation to the table. They work closely with businesses to harness the full potential of Salesforce Marketing Cloud, a robust platform that enables personalized, data-driven marketing strategies. From automating email campaigns to creating tailored customer journeys, Kizzy Consulting's team of certified experts empowers businesses to engage their audience effectively and drive ROI.
Salesforce Marketing Cloud Implementation Services:
Our Salesforce Marketing Cloud Implementation services encompass a comprehensive suite of solutions designed to empower businesses to achieve their marketing goals. Here's a glimpse into what we offer:
Strategic Consultation: We begin by understanding your unique business needs and goals. Our experts collaborate with you to develop a tailored marketing strategy that aligns with your objectives.
Platform Setup: We handle the technical aspects, ensuring a seamless setup of Salesforce Marketing Cloud in your environment. This includes configuring data integration, user access, and system settings.
Data Management: We help you harness the power of clean and structured data. Our services include data cleansing, migration, and integration to ensure that your marketing efforts are based on accurate and up-to-date information.
Personalization: Tailoring messages to your audience is key. We assist in creating dynamic content and setting up personalization rules to deliver highly targeted and relevant communications.
Email Marketing Automation: We streamline your email marketing efforts, from designing responsive templates to setting up automated email journeys, ensuring that your messages reach the right recipients at the right time.
Multi-Channel Campaigns: We help you expand your reach by integrating various marketing channels, including email, social media, SMS, and more, into unified campaigns.
Analytics and Reporting: Our services include setting up analytics tools and dashboards, allowing you to track the performance of your marketing campaigns and make data-driven decisions for optimization.
Training and Support: We offer comprehensive training to empower your team in using Salesforce Marketing Cloud effectively. Additionally, our ongoing support ensures that you can make the most of the platform's features.
Custom Development: When your marketing needs require unique solutions, we provide custom development services to build tailored functionalities and integrations.
Compliance and Security: We ensure that your marketing operations adhere to industry regulations and best practices for data security and privacy.
With our Salesforce Marketing Cloud Implementation services, we aim to equip your business with a powerful marketing toolset that drives engagement, nurtures leads, and delivers exceptional results. Our goal is your marketing success.
Why Choose Kizzy Consulting?

What sets Kizzy Consulting apart is not only its technical prowess but also its commitment to understanding each client's unique needs. They go beyond the implementation phase, offering comprehensive training and ongoing support to ensure clients make the most of Salesforce Marketing Cloud's capabilities. With a passion for driving results and a deep understanding of the Salesforce ecosystem, Kizzy Consulting is a trusted partner for businesses seeking to elevate their marketing game and achieve exceptional ROI.
Kizzy Consulting
Kizzy Consulting is a Salesforce Ridge Consulting Partner in the USA and has successfully implemented 100+ Salesforce projects for 100+ clients across sectors like Financial Services, Insurance, Retail, Sales, Manufacturing, Real estate, Logistics, and Healthcare in countries like the US, Europe, and Australia. Get a free consultation now by emailing us at [email protected] or Contact us.