Outsourced Salesforce Administration Services [2023]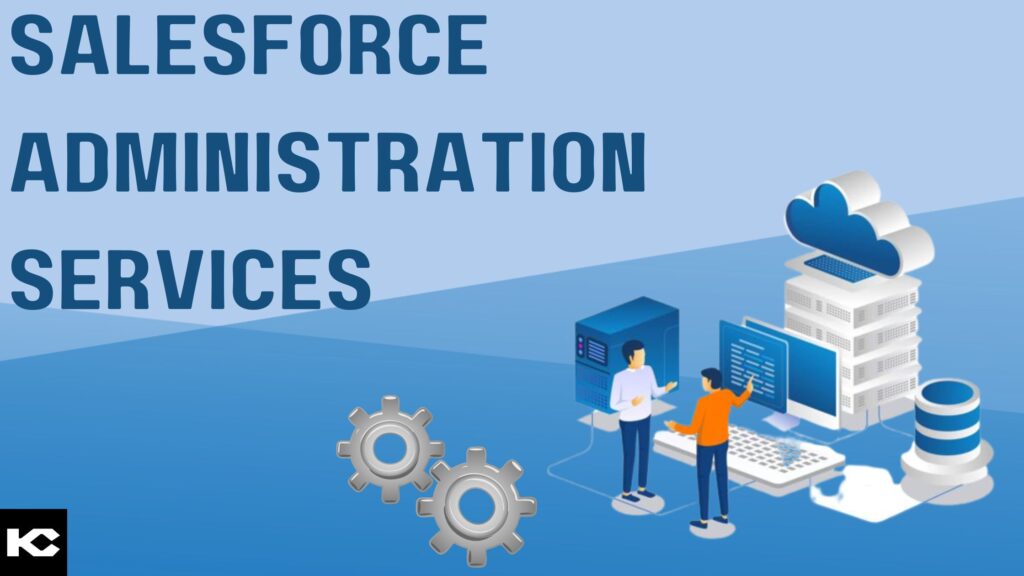 In the dynamic landscape of modern business, managing a robust Salesforce system is essential to drive growth and streamline operations. However, the complexities of Salesforce administration can sometimes divert valuable resources and attention from core business objectives. This is where Kizzy comes in as your trusted partner for outsourcing Salesforce administration services.
Outsourcing Salesforce administration to Kizzy brings forth a combination of technical proficiency and strategic insight. We ensure your Salesforce instance remains up-to-date, optimized, and aligned with your evolving business goals. By entrusting us with the intricate task of administration, you free up valuable time and resources, enabling your organization to leverage Salesforce as a dynamic tool for innovation, growth, and customer-centric success.

Reasons to Consider Outsourcing Salesforce Administration
Managing a thriving Salesforce ecosystem requires constant attention, technical expertise, and strategic thinking. However, dedicating internal resources solely to Salesforce administration can divert focus from core business operations. This is where outsourcing Salesforce administration services comes into play, offering a range of benefits that can contribute to enhanced efficiency and success. Here are some compelling reasons to consider this approach:
Expertise and Specialization: Outsourcing Salesforce administration allows you to tap into a pool of specialized experts who are well-versed in the intricacies of the platform. These professionals bring a deep understanding of best practices, updates, and configurations, ensuring that your Salesforce instance is optimized to its fullest potential.
Cost-Efficiency: Employing a full-time, in-house Salesforce administrator can be expensive, especially when considering salary, benefits, and ongoing training. Outsourcing provides a cost-effective alternative by allowing you to pay for the specific services you require, without the additional overhead.
Focus on Core Competencies: Your internal team's time and energy are precious resources. By outsourcing Salesforce administration, you free up your team to concentrate on strategic initiatives, innovation, and customer engagement – areas that directly contribute to your organization's growth.
Scalability and Flexibility: Business needs fluctuate, and your Salesforce requirements might change over time. Outsourcing offers the flexibility to scale up or down based on your evolving needs, without the constraints of hiring or downsizing.
Continuous Support: Outsourcing partners often provide round-the-clock support, ensuring that your Salesforce system remains operational and optimized at all times. This level of availability can be challenging to achieve with an in-house team.
Enhanced User Experience: A well-administered Salesforce instance translates to a better user experience for your team. Outsourcing ensures that your platform is user-friendly, efficient, and aligned with your workflows.
Access to Latest Technology: Outsourcing partners stay updated with the latest Salesforce features, updates, and trends. This means your organization can take advantage of emerging technologies without investing time in researching and implementing them.
Risk Mitigation: With experienced outsourcing partners, potential risks and challenges are mitigated due to their exposure to various scenarios and their ability to proactively address issues.

Comprehensive Inclusions in Our Salesforce Administration Services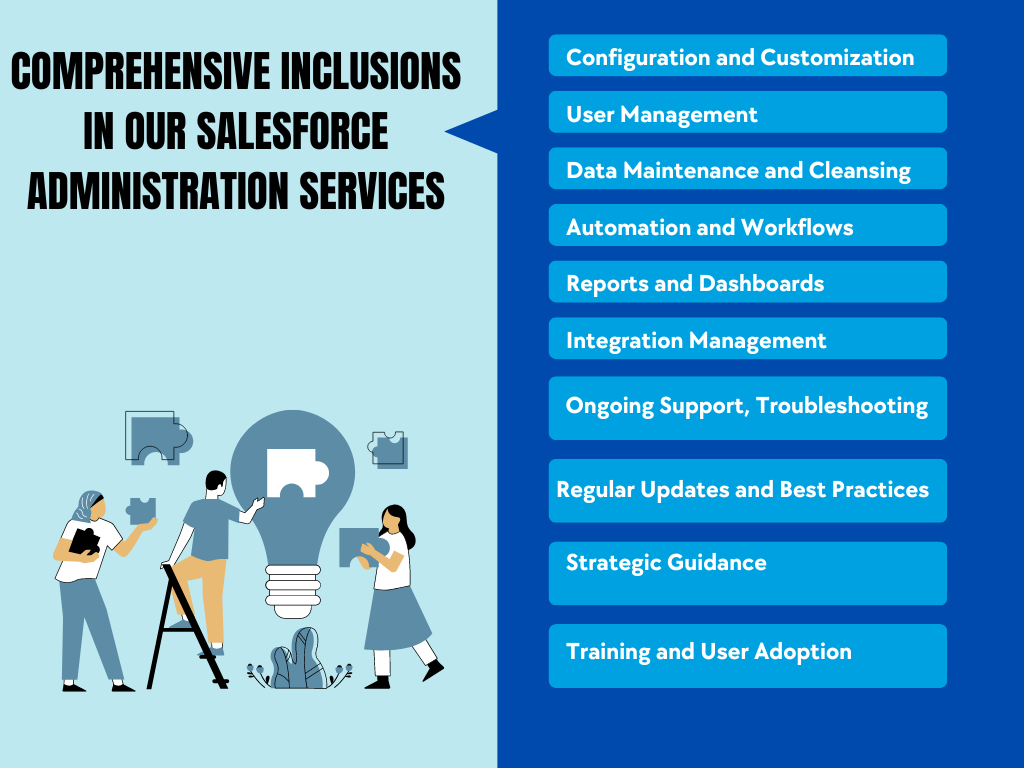 Why Salesforce Admin Services By Kizzy?
→ Dedicated and On-Demand engagement models
→ Cost savings and expenses control
→ Access to larger talent pools.
→ No need to set up your offshore office.
→ Certified Experts.
Explore what we offer in terms of Salesforce Quickstart Packages that we have for you.
Kizzy Consulting
Kizzy Consulting is a Salesforce Consulting Partner in the USA and has successfully implemented 100+ Salesforce projects for 100+ clients across sectors like Financial Services, Insurance, Retail, Sales, Manufacturing, Real estate, Logistics, and Healthcare in countries like the US, Europe, and Australia. Get a free consultation now by emailing us at [email protected] or Contact us.